"What, another challenge. The Horror?"


"The Horror?" she said...


"The horror that I didn't think of it myself. What would I do without my fellow bibliophile bloggers." The tone of wonder was sincere even if it was corny as hell.
As I mentioned below in my
TBR Challenge List
that I have a tendency to cheat, Miz Books wised me up. So no I am not even going to cross any books over. These are 5 picked from the stacks guys and hope ya like 'em cause your gonna be hearing me blab about them for two months!!
This time though, it's in no particular order: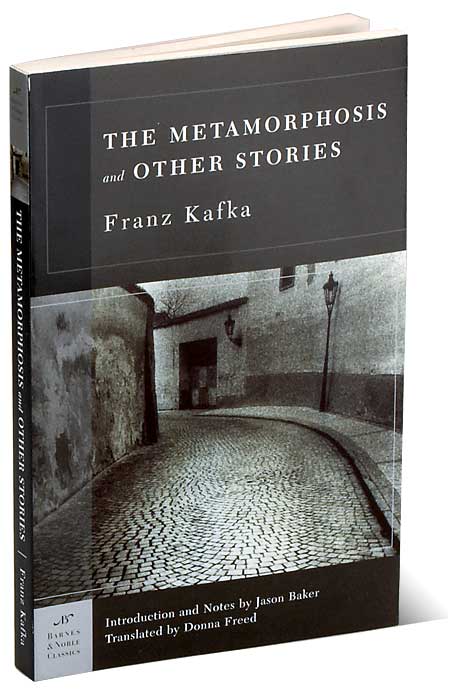 (1)
Franz Kafka's
Metamorphosis
Once when I was minding my business reading
Shopaholic
and loving it at Indigo, this 'gentleman' comes up to me and starts YELLING at how I was wasting my mind away reading 'that junk'. He ran over to the stacks and picked out this book and ordered me to buy it immediately. Well ,you Elitest Asshole, I eventually did buy it and I plan to read it. Yet I insist that I am not wasting my time reading "dessert books," that I am such a dedicated and astute reader that I manage to learn something from even the most meagre artistic materials. I am able to find something worthy, if only an interesting character or a humourous line, in what you so easily and hastily termed 'junk'. And, I may as well add, that I am likely reading what you yourself read too. I read it all, mister. One more thing, sir, you should probably mind your own business and let readers be readers.
(2)
I, Robot
by Asimov
I love the movie. It is a classic that has to be read, have it on my nighttable but I'm always like 'Oh next time. Next.' Yeah! Next is finally here!

(3)
Treasure Island
by Robert louis Stevenson
Did I tell you that I'm a part-time pirate?! Seriously! How could that have slippedm y mind...
(4)
The Art of Love
by Ovid
This is my Valentine's Day special to get me in the mood and in the groove. Also, M keeps on nagging that I have to make some headway into the poetry realm. It just never tickled my fancy.

(5)
The Picture of Dorian Gray
by Oscar Wilde
I did read it but then didn't. So I have to do the justice that it deserves.
That's it Folks. Call me Crazy. Call me Mad. But I'm in Love.