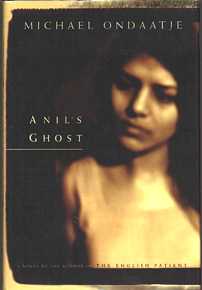 Title: Anil's Ghost

Author: Micheal Ondaatje

ISBN: 0676973612
Published: 2000, Vintage Canada
# of Pages: 307

Began Reading:
March 7th, 2007

Finished Reading:
March 10th, 2007

Challenge:
TBR Challenge 3/12
March Read


My 19th birthday was a pretty crazy affair. Meaning that it may not have been the drunkin' bash of my 18th bday, but hell it had its high points. My older sibling, knowing that I detest the impersonal gifts of gift certificate, gave me just that. And though it was from Indigo and for $50, as always, I went well above that amount and was forced to dish out more cash from my pocket. Oh the perils of gift certificates!

Anil's Ghost was a cover that I loved though. So beautiful and promising, I desided to buy it then and there before I would forget. (Back then I didn't have my little green book with me, where I record all the books I need to purchase) 5 years this book has sat on my self, untouched.

Now do you understand why I would choose it for a TBR Challenge Read?!

The Plot: Anil left Sri Lanka over 15 years ago for England and USA. Never feeling at home yet never wanting to return, she finally does when she is hired by the UN to investigate as a forensic anthropologist on skeletons found which may lead to better understanding on the Civil War. The goverment is fighting both the insurgents and the seperatists which lead to people, especially young, male youths, simply disappearing. When Anil and her co-worker, Sarath, discover this prototype skeleton - deemed Sailor - in a historic burial ground, they begin an investigation that may be the first to bring the governments crimes to the international public's eye. As we follow the team in their 'journey of discovery', Ondaatje gives glimpes of their history, relationships, and dreams they once had which were shattered once reality kicked in. All this packaged in this author's outstandingly unique writing style.

Best Part: The character Gamini, who is a doctor and brother to Sarath. The piece-meal information that the author gives us makes us fall in love with how real he is. Drug addict, divorcee, gentel but harsh when it comes to anything outside of the hospital grounds, the sections on this character you will breeze through.

Worst Part: The adventure of Sailor and chasing the clues on who this person was not as exciting as had hoped Ondaatje would make it. There could have been a little more sence of adventure, of danger. The supposed 'threat' of the government concerning their studies just didn't penetrate outside the page.

Read this When: Historically, this is a great introduction to a violent historical event that has been given little to no news on. Using this as a stepping stone or complement to a class lesson may be ideal. There are other works by Ondaatje that still have his incredible writing style, this one had some Faulkner influence though much more comprehensible. Like Faulkner, Ondaatje is focused more on the human aspect of things then on plot. Hence, my recommendation for a group enviroment that will do some extra reading on the times and place we find Anil and Sarath.

Awards: Anil's Ghost won both the Giller Prize and Govenor General Award in 2000.

Now am reading Steven Erickson's Garden of Moons for the chunkster challenge! Am doing pretty well with these. Coming up will be my non-fiction list.